My Rating: 4/5 stars
My Thoughts:
Lexi is in between jobs...again! She's determined to find the perfect job to fit her dreams, and insists that she shouldn't have to settle. Though she's living with her parents until she can get her act together, she's feeling the rush to get out the door not only from her parents, but herself. When she meets a handsome French guy at an upscale bakery, things start looking up...maybe.
Since reading Sandra's "Ladies in Waiting" series, and one of her YA books, Asking for Trouble, I've been anxiously awaiting getting the chance at her French Twist series, too. I was thrilled to finally have the opportunity to dive into it.
Let Them Eat Cake
was actually the first book I read on my Kindle Fire that my sweet hubby bought me. :)(And I quickly followed with the next two books!)
I'm not typically the target audience for contemporary Christian books. Generally, I prefer to save my contemporaries for non-Christian stories. This is one of those few books that break through that barrier for me. It actually took me a little time to adjust to the contemporary writing style, since I've grown accustomed to Sandra's historical writing style. I did enjoy the lighter, fun side of this series, though! I'd forgotten just how much I enjoy a good story with international accents. Hearing the French accents throughout this book warmed my reading heart for sure.
While there's almost always a certain amount of predictability in Christian books, there's some aspects of this book that took me completely by surprise! I thought I knew how it would turn out from the beginning, but it didn't happen that way. Despite that fact that I don't mind a predictable story in the slightest way, I did find this refreshing(especially in the 2nd book).
Cooking plays a huge part of the storyline, so there's lots of talk of food. You know my mouth was watering for some French cooking! Unfortunately, I didn't get to enjoy any, because as much as I was inspired to do some "French" cooking, I'm constantly reminded I'm not an expert in the kitchen. (I'm still determined to make a decent loaf of bread someday). There are recipes sprinkled throughout all three books. Some of them actually look simple enough for me!
Overall,
Let Them Eat Cake
is a fun and cute story!
*I was provided a review copy in exchange for my honest opinion.
**************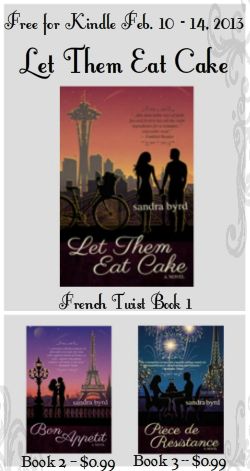 Now for the best news! Through February 14th
Let Them Eat Cake
is FREE on Kindle. What a great Valentine's Day gift, right?! :) Plus, the next two books,
Bon Appetit
and
Piece de Resistance
are only .99 each!! (I'll be posting my thoughts on those later this week, Lord willing. I enjoyed the series more and more as it progressed!)
If you spread the word on Twitter, Facebook or your website you can enter
here
, to win a "sweet" prize -- delicious petits fours from Sandra Byrd and Divine Delights. US residents only. If those petits fours don't sound appealing, I assure you they will after you read Let Them Eat Cake!