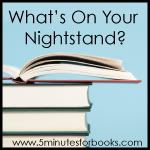 What's on Your Nightstand is hosted by
5 Minutes for Books
every 4th Tuesday of the month.
This month, I have plans to read/finish:
Anything: The Prayer That Unlocked My God and My Soul
by Jennie Allen
I'm about halfway through this one. Mixed feelings so far.
The Girl Who Circumnavigated Fairyland in a Ship of Her Own Making
by Catherynne Valente
This is my pick for
The Bookclub
for August.
The Story Shell: A Tale of Friendship Bog
and
Pibbin the Small
by Gloria Repp
These are SO cute!
My Stubborn Heart
by Becky Wade
As you can see, I've got a light reading month ahead of me compared to normal. I'm excited to do some catching up. :)