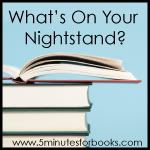 What's on Your Nightstand is hosted by
5 Minutes for Books
every 4th Tuesday of the month.
Since last month's post, I've read
:
The False Princess
by Eilis O'Neal
Princess Academy
by Shannon Hale(haven't posted yet)
Mermaid
by Carolyn Turgeon
Sixty Acres and A Bride
by Regina Jennings
Choosing Gratitude
by Nancy Leigh DeMoss
To Die For: A Novel of Anne Boleyn
by Sandra Byrd(re-read and haven't posted yet)
East
by Edith Pattou
The Girl in Blue
by P.G. Wodehouse
Quiet
by Susan Cain(although this one involved some skimming)
For this month, I have planned:
I need to finish
The Adventures of Tom Sawyer
by Mark Twain
That post needs to go up by Friday, so I probably need to finish it today!
The Secret Keeper: A Novel of Kateryn Parr
by Sandra Byrd
I really want to get back in this one today. It's one I've been HIGHLY anticipating, and so far it's just as wonderful as I had hoped. The past couple of days haven't provided the most reading time. :P "sigh" I really do need to finish Tom Sawyer for the bookclub, though.
Five Miles South of Peculiar
by Angela Elwell Hunt
This one so far reminds me
very
slightly
of The Mitford Series by Jan Karon, which is one of my ALL-TIME favorite series.
The Blood Sugar Solution: The UltraHealthy Program for Losing Weight, Preventing Disease, and Feeling Great Now!
by Mark Hyman
I've already read a little bit in this one, too. Now if only I could put it all into practice......no dairy, no white sugar, no white flour.....yeah, easy peasy! (I know lots of people already do this and I admire them)!
Glamorous Illusions
by Lisa Tawn Bergren
This one sounds really good from the description!
She's Got Issues: Seriously Good News for Stressed-Out, Secretly Scared Control Freaks Like Us
by Nicole Unice
The "Time-Permits" Pile:
The rest of these are non-review books, so while I know I there's no way I'll be able to get to all of them, they are the ones I most want to read right now(other than my review books). As time permits, I'll most likely pick from this pile to read.
The Mysterious Benedict Society Series
by Trenton Lee Stewart
I hope to at least read book 2. I won copies of The Extraordinary Education of Nicholas Benedict for both me AND my library, so I'm really excited about that!
River of Time Series
by Lisa Tawn Bergren
I finally got all three of these books, so I'm ready to dive in. I have to admit that I started reading Waterfall several months back, I didn't like it. I didn't get very far, to be fair. SO many of my blogging friends(with ALL different kinds of reading tastes) LOVE this series, though, so I really don't have any doubt at this point that it will grow on me when I give it a better chance! I'm really looking forward to it.
A Girl of the Limberlost
by Gene Stratton Porter(the June Bookclub pick)
The Swan Kingdom
by Zoe Marriot(That's not the cover I have, but it's so pretty, I have to use it).
Promise Me This
by Kathy Golhke