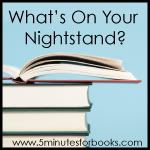 Since last month's post, I've read:
By the Light of the Silvery Moon
by Tricia Goyer(I'd actually read this one last month, but posted my thoughts this month)
The Money Saving Mom's Budget
by Crystal Paine(audio)
Moonblood
by Anne Elisabeth Stengl
The Selection
by Kiera Cass
Sun and Moon, Ice and Snow
by Jessica Day George
The Wedding Dress
by Rachel Hauck
Harriet Beamer Takes the Bus
by Joyce Magnin
The Mysterious Benedict Society
by Trenton Lee Stewart(I haven't posted thoughts yet, but I LOVED it! The whole set was here when we arrived home today. YAY!).
Need You Now
by Beth Wiseman(I haven't posted thoughts on this one, either)
My only "Did Not Finish" was:
Unraveling
by Elizabeth Norris-The profanity was horrible and it was too creepy for my tastes.
I'm currently working on:
The Girl in Blue
by P.G. Wodehouse
East
by Edith Pattou
This month I plan on reading:
(I'm having to roll over a couple of books from last month).
Choosing Gratitude: Your Journey to Joy
by Nancy Leigh DeMoss(Oh, how I need this one! I've read a little bit in it already)
Sixty Acres and a Bride
by Regina Jennings
Quiet: The Power of Introverts in a World That Can't Stop Talking
by Susan Cain
The Adventures of Tom Sawyer
by Mark Twain
To Die For
by Sandra Byrd(This will be a re-read in anticipation of
The Secret Keeper
, which is releasing soon. I'm very excited for it!)
The rest of the month, I want to just wing it, so I'll be picking from my pile. Hopefully, I'll get to more fairy tales, because I'm enjoying those more than anything at the moment. This one has really been calling my name, too.
The False Princess
by Eilis O'Neal
I participated in a book swap last month, so I have several books I'd love to read!