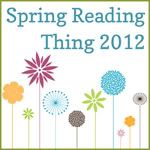 Spring Reading Thing
is hosted by Katrina @
Callapidder Days
.
As much as I used to dislike planning my reading, I've grown to appreciate having a list.
I realize I probably won't get through ALL of these. I hope to, though. They are in addition to my "What's on My Nightstand" books, so we'll see. They are also all books that are already on my shelves.(oops....two exceptions are from my church library).
Non-Fiction:
Healthy Sleep Habits, Happy Child
by Marc Weissbluth
I'm desperate for sleep. I NEED sleep! Excluding month 3/4 (I think), when Firefly actually slept through the night, I think I can count on one hand(I might need both if I think hard enough) the number of times I've actually slept through the night in the past 11 months. :P I'm not
completely
deprived, but I can feel it catching up with me in every part of my body.
War of Words: Getting to the Heart of Your Communication Struggles
by Paul David Tripp
I've heard good things about this author, so I really want to give this one a try.
Friendship: Handle With Care
by Jane McWhorter
I admire this sweet lady with all my heart, and have all the respect in the world for her! We also go to the same church. :) I'm wanting to make my way through ALL of her books eventually(I've already read a few).
She Hath Done What She Could
by Jane McWhorter
Special Delivery: A Course in Letter-Writing
by Jane McWhorter
I bought this one recently, and Ms. Jane signed it for me. :)
Fiction:
East
by Edith Pattou
Sun and Moon, Ice and Snow
by Jessica Day George
The Frontiersman's Daughter
by Laura Frantz
Alabama Brides
by Sandra Robbins
I really, really hope I can make it through all of these!