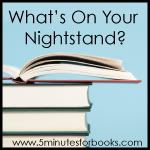 What's on Your Nightstand?
is hosted by
5 Minutes for Books
every 4th Tuesday of the month.
I've ended up with a big stack of review books for this month! As much as I try to control myself accepting reviews, sometimes I forget just how many I've taken on. Then they all come in at once. :P I
am
excited about each and every one of them, though.
So far, for the month of February, I've
read:

(and reviewed)

Sweeter Than Birdsong
by Rosslyn Elliot
A Darkly Hidden Truth
by Donna Fletcher Crow
The Art of Falling in Love
by Joe Beam
Winterling
by Sarah Prineas
The Springsweet
by Saundra Mitchell
Eye of the Sword
by Karyn Henley
Shakespeare's Lady
by Alexa Schnee
Read(haven't reviewed yet)
:
Lit!: A Christian Guide to Reading Books
by Tony Reinke
-I'm almost done with this review. Hopefully, I'll post it tomorrow!
Peter Pan
by J.M. Barrie
-So, apparently I'm not a Peter Pan fan. I tried to read
Peter Pan in Kensington Gardens
, too, but I realized there's no sense torturing myself. No offense to anyone who does like Peter Pan! ;) He just wasn't for me.
Heartless
by Anne Elisabeth Stengl
I need to
finish reading
:
Peter and the Starcatchers
by Dave Barry and Ridley Pearson
-I've been
slowly
reading on this one. It's ok. :P I do want to finish it, though.
A Love That Multiplies: An Up-Close View of How They Make it Work
by The Duggars
-I'm really enjoying reading this one!
The Beautiful Wife: Focused on Christ, Fulfilled in Marriage
by Sandy Ralya
-I'm using this one as my Bible study book at the moment.
The Maid of Fairbourne Hall
by Julie Klassen
-I just started this one, but I like it so far.
More Beauty, Less Beast: Transforming Your Inner Ogre
by Debora Coty
-This one is perfect for grabbing a chapter here and there. It's definitely different than what I'm used to, but it's cute as a quick devotional.
In March, I
hope to read
:
The Pilgrim's Progress
by John Bunyan
-I don't know anything about this book, so at the moment I have no idea what I'm getting myself into. We'll see!
Stand by Me
by Neta Jackson
By the Light of the Silvery Moon
by Tricia Goyer
-I am SO excited to read this one! It will be my first book by Tricia, but I have been hearing great things about her since before I even knew about the whole book blogging world.
Oil
by Jeff Nesbit
-This one doesn't look like anything I would ever pick up on my own, but it was sent to me as a surprise, and now I'm actually pretty curious about it.
Growing Up Ziglar: A Daughter's Broken Journey from Heartache to Hope
by Julie Ziglar Norman
-I'd never heard of the Ziglars, but I've been hearing pretty good things about the book, so maybe I'll like it.
Blue Moon Promise
by Coleen Coble
Almost Amish: One Woman's Quest for a Slower, Simpler, More Sustainable Life
by Nancy Sleeth
In anticipation for
Moonblood
, which releases in April(and I hope Amazon rushes my copy!), I really want to re-read
Veiled Rose
by Anne Elisabeth Stengl.
I've got a very busy month of reading ahead of me! I'm
mostly
finished with
most
of the "finish reading" books, so hopefully I can actually get them all in!