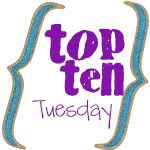 I really don't watch a whole lot of TV these days. Most of these shows were favorites from my younger years. And, it does not include children's shows. That's a whole different Top Ten list! ;)
Some of my links show up for certain seasons, but for the most part, I'm not too partial to a specific season. I like them all!
I Love Lucy: The Complete Series
If I could only watch one show,
I Love Lucy
would be it! I absolutely adore this show! I grew up watching Lucy and Ethel, since my momma also adored it. Love it!!!!!!
The Andy Griffith Show - The Complete First Season
This is my second favorite show. I grew up with it, too. It's just such good, wholesome fun, and there's lots of parenting lessons sprinkled in the episodes!
Perfect Strangers: The Complete First and Second Seasons
This was probably my all time favorite show as a young person. It's been years(and years) since I've seen it, so I'm curious if I would still like it. I have watched a show that I liked back in the day and wondered what I was thinking!
Dr. Quinn, Medicine Woman: The Complete Series
My whole family adored this show. It was one we tried very hard not to miss.
Family Matters: The Complete First Season
Matlock: Sixth Season
I haven't saw this show in many years, but I'd love to watch it again!
18 Kids and Counting: Season 2
I DVR episodes and watch them some mornings when I'm up early with Firefly. It's only been this year that I've started watching The Duggars, but I love these shows!!
In the Heat of the Night
CHiPs: The Complete First Season
7th Heaven: The Ninth Season
I came back and added this one in, because my list just isn't complete without it!! I watched it until the end!
And here's a few close runner-ups:
Boy Meets World: The Complete Fourth Season
The Munsters: The Complete Series
Walker Texas Ranger - The Final Season
My favorite part of watching this show was the theme song at the beginning. Yes, the one sung by Chuck Norris! Jonathan thinks I'm absolutely crazy for liking that song. It's been going through my head since writing this post, though.
The Golden Girls - The Complete First Season
It's only been in the past few years that I saw this one for the first time, but I really like it!