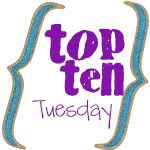 If you've been around my blog very long, you know that I'm not very well-read when it comes to the classics. While I've read some that I've enjoyed, there's others that I've disliked or had a very hard time getting interested. While there's many more I want to read, these are probably the top ten.
Betsy-Tacy (Betsy-Tacy Books)
by Maud Hart Lovelace
I won
Emily of Deep Valley
from Annette @
Live, Learn, Love
a few weeks back. She had me really wanting to read these books!! I've started reading Emily's story and I am really enjoying it so far!!
Anne of Green Gables
by Lucy Maud Mongomery
This is one that I've been intending to read since back in January, as part of the
Lucy Maud Montgomery Reading Challenge
. I had intended to listen to it on audio, but then decided I'd rather read it. I checked out my library's copy, but it is one of those books that make use of every single bit of page it can. I had to pull on the page every time I got to the last word in the sentence. That got annoying!! Then I downloaded a copy on my Kindle......Hello migraines!! So.... I finally ordered myself a copy, and I've had it a few weeks now. Hopefully, it will get read soon. :)
The Adventures of Johnny Chuck, with Illustrations by Harrison Cady
by Thornton W. Burgess
I saw a review of another book by this author last week during
Read Aloud Thrusday
(hosted by
Hope is the Word
). It just re-inforced my desire to read this one. Grasshopper has been toting it around with him looking at the picture on the front.
Freckles
by Gene Stratton-Porter
Sadly, I had never heard of this author until I saw a review recently.
Nancy Drew Mystery Stories : The Secret of The Old Clock and The Hidden Staircase
by Carolyn Keene
This is another one that I kept from my childhood.
Emma
or
Sense and Sensibility (Oxford World's Classics)
by Jane Austen
Since I've tried several times to read Pride and Prejudice, and failed, I decided maybe I should try one of the other books.
Elsie Dinsmore
by Martha Finley
I've read a little bit of the first book, and Elsie really doesn't seem like my kind of heroine, but I do want to continue reading to make sure.
Anything by
Grace Livingston Hill
I have several of Grace's books, but haven't read any of them yet.
Little Town on the Prairie (Little House)
P. G. Wodehouse
I have The Girl in Blue.