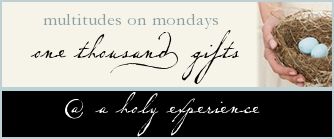 1. I've been getting 5-6 straight hours of sleep every night!
2. My Jonathan is DONE with school!!! It was very hard not having him home much at all.
3. My Jonathan is home SO MUCH more.
4. Pay raise. :)
5. I've now lost all pregnancy weight, plus 10 more. Yah! (I've got 44 to go to get back to marriage weight).
6. Air conditioning!
7. Every little sigh and smile from my Firefly.
8. Big hugs from my Grasshopper.
9. Fat-free chocolate pudding. :)
10. Watermelon